I installed Xiaomi.eu 12 stable about one month ago and the device worked properly until this morning. I unlocked the screen, clicked on the toggle wifi to activate it and then the device stopped working. Totally freezed.
I tried with a reboot but the device was stuck to the boot logo. So I've tried to enter the recovery mode (Orange Fox in my case) and also it was stuck in the Orangefox logo. The only thing which works is fastboot.
So I decided to try to reset the phone, without success in all the cases. Here all my attempts:
1) Install other recoveries with fastboot (Orangefox, TWRP, Stock recovery) and depite the installation succeed, none of them worked; when I try to enter the recovery mode, it's still stuck into OrangeFox logo (also after I've installed other recoveries).
2) Install MIUI global fastboot rom with MiFlash tool. It reports error xbl.
3) The last thing I tried: several attempts with fastboot and MIUI global fastboot ROMs. In all the cases the reported error was the write protection of xbl.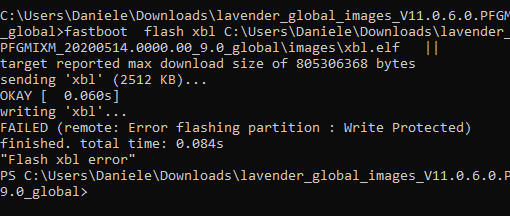 Any advice?