This review is written in "UK English", English is not my native language, please let me know by a PM, if words and sentences are rubbish. With your help I can correct the mistakes, and push this review to a higher level.
Most of the thumbnails are clickable, I've tried to place pictures with low dimensions to let this page load as quick as possible

A few months ago, Xiaomi announced 2 new smartphones. A lower mid-price Mi2a with a 1,5 GHz Dual-core CPU. The other one is a upgrade of the Mi2 with the name Mi2s and a 1,7 GHz Quad-core CPU. Now it is time for another model. I will review a phone which is primarily made for the Chinese market; The Xiaomi Hongmi (Chinese name for Red Rice).
Changlog: 01-09-2013 reduced pictures form 70 to the maximum of 45
Chapters
Introduction
Why this Smartphone
Specifications of the phone
My first impression
Basics of the phone
Camera
Movie examples
Picture examples
Battery
Display
Comparison with Xiaomi Mi2
Benchmarks
Additional information and links
Verdict
Introduction
Xiaomi recently celebrated her 3rd birthday and introduced her 7th phone (Mi1, Mi1 Youth, Mi2, Mi1s, Mi2s+Mi2a, Hongmi). Xiaomi started 3 years ago as a developer for custom roms. Nowadays Miui is one of the biggest brands for roms, on smartphones. The rom on this phone has Version 5 and runs on Android 4.2.1. This is the second time I have the chance to create a review about another Xiaomi phone. In this review I will compare it a lot with my Xiaomi Mi2.
Mi2 vs. Hongmi​
Quad-core 1,5GHz Qualcomm ---> Quad-core 1,5GHz Mediatek
4,3" Dragon Trail LCD ---> 4,7" Gorilla glass 2 LCD
Single sim ---> Dual sim
2GB RAM ---> 1GB RAM
16/32GB ---> 4GB + Micro SD
A-GPs + Glonass ---> A-GPS
The specifications show you that this new phone will probably not be able to beat the Mi2, but will it come close to its older brother?
Why this smartphone
On Friday August 24th I received a mail from Ibuygou, in the e-mail written that I would receive a package that day. In this mail also included a tracking number from DHL. I was confused, because I didn't order anything, my birthday was 1 month earlier, and I think I didn't won a piece of hardware, I just won an award for a reviewer recruitment contest from Ibuygou.
I went to the website of DHL and saw that the packaged was picked up 36 hours earlier in Hong Kong. The description said that I would receive a media-player. I told myself that this was a new product which needed to be tested. A few hours later I received a message that my package was signed by my dear neighbour and after work I picked it up.
I picked up the DHL package and noticed that it was not opened at the border. In the DHL bag was a box wrapped up like a present, I took the paper off the box and noticed the label of the hardware inside. It looked familiar. I noticed that it looked like a Xiaomi label with a lot of Chinese characters and things like: "
1,5 GHz and PowerVR SGX544
". At that moment I thought I had received a USB-TV adapter or Android on a stick or something like that from Xiaomi. I opened up the box and my eyes opened up as far as they could. In my hand was a brand new smartphone from Xiaomi!
I must admit that I would have not thought about buying this phone as a replacement for my current phone. Not only because it lacks 3G for Europe, but I love small phones with very good specifications. The Mi2 and Mi2s are the fastest phones in this category and they can compete against the bigger phones from worldwide manufacturers like Samsung, HTC and Huawei. The reason I review this phone is because the Chinese website:
www.ibuygou.com
has sent me this phone to test it for them (yep for free). As far as I know I am one of the 7 worldwide testers of this phone for this website and 1 of the 100.000 people who have this phone. On the 12th of August Xiaomi opened the gates for another lottery. You had a chance to buy one of the 100.000 pieces. 7.500.000 people had subscribed for this phone, but after 90 seconds all the Hongmi's were sold out! I don't exactly know why Xiaomi does it like this (the lottery to get a chance to buy a phone), because they can easily sell much more phones when they just offer them via their own website or thru a partner.
Back to Ibuygou, recently I have reviewed their website and customer service via
my blog
on
Tweakers
and participated in a few contests. I don't create this review to advertise for them. But I do want to thank them for this phone and the confidence they have in me. I will do my best to give all the advantages and dis-advantages of the phone. The market price is ~$219/ EUR 170, the phone is priced as a low-end phone with the specs of a mid-range phone. I will keep this price in mind during this review.
Specifications
I have retrieved the list of specifications from Ibuygou (translated from
www.xiaomi.com/hongmi
) and I have used the layout of gsmarena.com.
2G Network: GSM / 900 / 1800 / 1900
3G Network: TD-SCDMA 1900 / 2100 (Only suitable in Asia)
SIM: Dual-sim
Dimensions: 137 x 69 x 9,9 mm
Weight: 158g
Display type: IPS LCD capacitive touchscreen, 16M colours, Gorilla glass 2
Display Size: 720 x 1280 pixels, 4,7" (~312 ppi)
Multitouch: 10 fingers (Checked it with this program Multi-Touch test)
Sound: Vibration + MP3, WAV ringtones
Speaker: Yes
3.5mm jack: Yes
Card slot: Micro SD (Up to 32GB)
Memory (ROM): 4GB
Memory (RAM): 1GB
Data GPRS: 32 - 48 kbps
Speed: TD-SCDMA HSDPA, unknown Mbps; HSUPA, unknown Mbps
WLAN: Wi-Fi 802.11 b/g/n, Wi-Fi Direct, Wi-Fi hotspot
Bluetooth: v3.0_HS, v4.0_LE with A2DP
USB: Micro USB v2.0 (MHL), USB On-the-go
Camera: 8 MP Samsung camera, 3264x2448 pixels, autofocus, LED flash
Features: Geo-tagging, touch focus, face and smile detection, image stabilization, HDR
Video: 1080p HD@30fps
Features: Backside illuminated sensor, F2.2, Support Zero shutter lag, face recognition, HDR, real time filter, Geo-tagging, touch focus, Record with LED support light
Secondary camera: 1,3 MP, 720p@30fps
OS/Rom: MIUI V5, support Android 4.2
Chipset: Mediatek MT6589T
CPU: Quad-core 1.5 GHz 28nm
GPU: PowerVR SGX544
Sensors: accelerometer, gyroscope, proximity, compass, light, weight, measure
Messaging: SMS(threaded view), MMS, Email, Push Mail, IM, RSS
Browser: HTML5
Radio: FM radio via wired headset
GPS: Yes, GPS + A-GPS
Java: Yes, via Java MIDP emulator
Colours available: Chinese Red, Metallic Grey, Ivory
Battery: Li-Ion 2000 mAh battery
Sound support: MP3/ACC/AMR/OGG/M4A/MID/WMA/FLAC/APE/AAC/WAV
Image support: JPEG, PNG, GIF and BMP
Video support: MP4/rmvb/flv720P/H.264/H.263
Documents: Word, Excel, PowerPoint and PDF
Led colours: Blue, Red, Orange, Yellow, Cyan, White and Violet
- Calendar, organizer, alarm clock, Image/video editor
- Exchange mail
- No Google apps
- Voice memo/dial/commands are in Chinese
- Predictive text input in multiple languages (Only Swype or Sweep motion available for Chinese)
- Active noise cancellation with dedicated mic
- TV-out (via MHL A/V link) Wi-Fi Display
- SNS integration
First impression
The package that I have received from Ibuygou was equipped with:
Xiaomi Hongmi, A simlock-free, but branded phone by China Mobile
2000 mAh battery
China -> EU converter for the power supply
Power supply with a replaceable USB cable
Standard forms like the manual of the phone
The Headset was missing. This is not part of the standard contents of the package from Xiaomi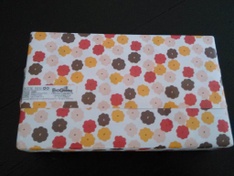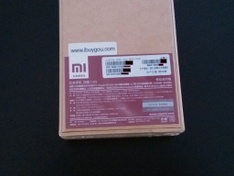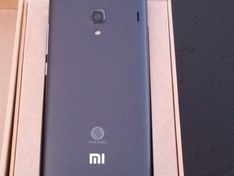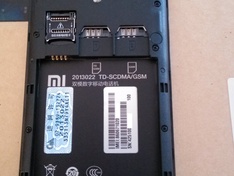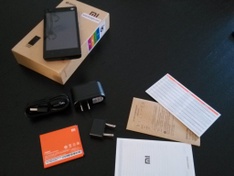 ​
Unboxing video
With this brand new unique phone in my hand, I checked the content of the box and it had the same layout as the Xiaomi Mi2. The battery is different and much smaller than the battery of the Mi2, although it is smaller, the power is almost the same (2000/2050 MAh). The backplate of the phone was difficult to take off. They tried to make it easier for the user, but it didn't really help for me. They have made a gap at the side of the backplate, but I still get the feeling that you should open it from the bottom to the top instead of from the side to the bottom and then to the top.
Under the backplate you can see 3 empty spots. 1 is reserved for the micro-SD card and there are 2 locations where you can place your oldschool-size sim-cards. On the back of the phone is a logo from China Mobile, this shows that it is branded phone by this Chinese carrier. Under the logo you see the name "MI" which reveals that it part of the Xiaomi family.
The front is covered by 1 big Gorilla glass 2 display and it covers a 4,7" screen, there is a small G3 logo in the right corner and that is the only name on the front of the phone. The bezels are large and it makes the phone bigger than it should/could be. I am not able to operate the phone with 1 hand like my Mi2, but it actually feels slightly thinner. In reality it is only a few millimetres, but this is probably caused by the shape of the backplate. The phone feels good and the finishing is very good as well. If you put this phone on a table it will not be noticed as a brand new phone. I think it looks like a lot of other Android phones. If the phone was in another colour it will be noticed much more by people.
When I turned on the phone it showed me a
nice G3 logo
and I was able to set up the phone, you get the choice to do it in Chinese or English. The battery started that day with 44% power, this was enough for me to play with it until midnight. The screen looks good and the backlight is really bright. The capacitive on-screen buttons have the nice red colour, but they unfortunately do not lit up, this is something Xiaomi should work on with their next phone. If you know the meaning of the 3 buttons it is ok, but if you switch between different brands, you could get confused. I think a lot of Android phones have the "back" button the left and the "menu" button on the right, but Xiaomi has it the other way around. On the bottom of the phone, directly under the home button is a notification led light. You can change the colour for notifications for several programs. I use white for e-mail, blue for Facebook and green is for Whatsapp messages.
Basics of the phone
OS
Just like all Xiaomi phones, this one was of course delivered with Android in a Miui ROM. The version of Android is 4.2.1 and Miui has version HBJ2.0. I have updated the phone via OTA with the weekly update to version HBJ2.1. The update process is different from the Mi2, in this case there is no backup partition to retrieve your version. This also means that you will not lose a lot of space from your 4GB internal memory. From this 4GB, you can only use ~800MB for your pictures, music, downloads, etc. and 2GB is reserved for system storage. I haven't find out where you can find the ~1GB, I hope this is reserved for OS updates or is this used for system memory after all?
Languages
The phone can be set into 3 different languages and thankfully English is one of these languages. If you choose for English, then it will happen that you can still see a lot of Chinese characters. This issue is much more noticeable on this phone then it was with the Mi2, maybe it is because the ROM is completely rebuilt? I don't know. I hope that the MIUI-Android developers get the chance to make a translation for this phone. I know one of the lucky customers of Ibuygou has sent his phone to a French developer.
Apps
The phone does not come with standard European apps like Whatsapp, Facebook or Twitter. Instead of these features, the phone is packet with a lot of Chinese apps and a Chinese App Market. This doesn't mean that you are in big trouble, the Chinese apps are easy to remove. Just like the mi2, this phone has also some interesting English apps like a collection of security apps in the folder: Security Center.
With the release of Miui V5, there is no possibility to download Google play very easily. You can search for it, but it will not install. The installation needs to have Service Framework to let it work. What you need to do is: Search for Google and the first result will show you an app with a Google logo from creator Eric Xiang. When you download and install this app, you will be able to download Google apps with the framework. Then you can download Google play for all your favourite apps.
There is one great app I would like to mention: "Handbook" , it is a quick guide which is translated to English (on the mi2 it was only available in Chinese). This app is created to teach you everything you need to know about your phone in a very short time. This is even useful for a seasoned Android user.
Homescreen
I have several Android products and I used other OS's before. The first time I used Miui, went without any problems. Most things can be found very easily and it works like a charm. You only have to get used to the position of the capacitive buttons. The return/back and menu button have switched places in comparison to other Android phones. MIUI keeps all the applications on the homescreen and this means that there is no menu with all your apps. It is very useful, but I can imagine that this is not ideal if you have a lot of applications. To restrict the amount of applications on your homescreen, it is possible to merge apps into 1 folder. On the homescreen it is possible to use different widgets.
Connections
The phone supports the common connections such as Wi-Fi, GPS and Bluetooth.
Wi-Fi:
Just like my Mi2, this phone is equipped with a Wi-Fi N card, but it lacks the correct 5 GHz range, which makes it impossible to let your phone use this high speed Wi-Fi connection. Maybe it can be used to communicate from one phone to another, but other than that it will probably not be used by your home network. In terms of connection/recipient, I didn't notice any lags or problems compared to other Wi-Fi equipment. If I need data on my network, then I use my NAS to communicate between my phone and the stored data. With the app/tool "Transfer" it is very easy and quick to copy your data. Your phone will create a Wi-Fi hotspot by itself, sends the data and then breaks down the Wi-Fi hotspot when you send your last file.
GPS:
I have tested the GPS with several tools to make sure that everything works as it should be.
Flitsmeister, to check if it recognizes speed-traffic radars and if it warns me correctly.
Sygic, to verify and plan my routes and that it doesn't stop or having other strange behaviours.
Sport Tracker, to check if it recognizes the path I've taken by foot or by bike.
I can see that it works perfectly when I'm outside the house. The phone does not support the Russian Glonass satellites, this could also be a reason why it is almost impossible to get a GPS signal inside my home. This chipset can run GPS very good, it works as good as a USB SIRF IV GPS Module, which I use in my headunit of my car. When I walk out the door it will get a good GPS signal within 30 seconds, this is enough to start up the navigation and go to my destination. It seems that it only has problems with Sports tracker, it gives
unrealistic high speeds
. The showed track is alright, it exactly shows
how I travelled
.
Bluetooth:
The connection with the Android headunit in the car works without any problems. It recognized my contacts and I can be heard excellent through the microphone in the car. I have tested the sound of my music player on my Jabra Street headset. The sound is of a good quality and I couldn't notice any differences with my Mi2. I can use my BT headset when I'm 30 big steps away from my phone. I think it would be at least 20 meters with walls between it.
Calling
The provider I used is T-mobile and Vodafone, So far I haven't experienced a bad connection on these networks. Making phone calls went without problems. The hands-free feature is easy to turn on during a phone call. When I turn on the hands-free functionality, my voice is still very clear for the person on the other side. It is very easy to find or call a person from the phonebook. You can call a contact by typing in the name with T9 or by using (a part of) the phone number. I think this should be standard for every phone and every OS. Right before you call someone, the phone wants to know from which SIM the contact should be dialled.
Ringtones
A lot of different tones, melodies and notifications can be used in the phone. You can use your own MP3 songs when someone calls you. You can use the build-in ringtones and tunes or you can download them via the phone menu. The ringtone can be set loud enough, but the downside is that all the other messages will be on the same volume. You can't change them apart from each other. You are able to change the volume of the alarm, voice, music/games/videos and bluetooth independently from the ringtone.
It is possible to set your phone into a Flight mode or Silent mode which will put your phone in vibrate mode. The vibration is a feature which performs under the level of other phones, but seems to be a bit better than the Mi2. With this phone you are no longer able to control the vibrate level from low - medium - high, this functionality is unfortunately removed out of the current OS. The vibration is barely noticeable when you have the phone in your pocket or in a bag. Every time I hear a phone vibrate, but then I realize it was a Samsung or Apple or any other phone from someone else. But there is good news, Xiaomi invested many millions of dollars in a new way of the phone vibration.
Music player
There isn't much changed with the music player, it is still a great app and looks good. The music player can be started from your lockscreen (unless you have set up a PIN code to unlock your device).
You can let your phone download the album information and cover photos for all your songs for free. This way it will show you the album of the playing artist.
I did notice a bug, it forgets the settings of my BT headset. You are able to calibrate the buttons on your headset. You can only calibrate the buttons from a wired! headset
So, if you use a BT headset you should plug in a wired headset, synchronize the buttons on your headset and then it will recognize your volume and previous/next button. When you connect your headset after work, it doesn't know your settings anymore. With my Mi2 I could easily start my music by turning on my BT headset and to press on play. But with this Hongmi this doesn't work. I need unlock my phone, go to the music player and press on play before it will recognize my play button on the headset.
Keyboard and browser
The standard keyboard has 2 different profiles: Baidu input and Google Pinyin Input.
Baidu input is completely in Chinese in it worthless for me.
Google Pinyin Input looks more like the one we are used here. It has the normal settings like; different input languages, spell correction and word prediction. If you have the Chinese characters/language then you can also use gesture typing. I think this is some sort of a Swype option.
The standard keyboard is OK, but I prefer some sort of a Swype option and this made me decide to download an .apk of the stock android keyboard.
The standard browser has many issues,
the browser hangs
many times 10 minutes and the only thing I could do was to stop the operation and shutdown the browser. Sometimes it also works when you press on back on the browser wakes up again, but no longer than 5 minutes.
I have installed Opera Classic as an alternative and this works as it should be. It runs smooth, quick and without any problems.
Camera
A good camera is very important on a phone nowadays. I think that you can see the quality of the phone thru the quality of the camera. If the creators of the phone did not build in a good camera, then the rest of the phone is probably not good either.
The camera on this phone felt like the Mi2. The quality for pictures at daylight is very good, maybe it even is the best in the range of a ~€200 phone. If you want use the camera in the evening or in a surrounding without much light then it is even worse than the Mi2. It is very difficult to create a good picture in the darkness. I did my best, but making good pictures with poor lighting was not possible for me. I used the option nightmode, but this feature did not give good results, it just creates pictures without the flashlight.
There is no hardware button to make pictures or movies, but you can make a picture via your screen. The onscreen button can be set into 2 functions. You can use it as a burst-button but this burst only make about 1-4 pictures every second. If you want to use burst functionality, then you can easily download the free program: "Fast Burst Camera", this app can make 30 pictures in a second with a lot of different phones.
You can also use the onscreen button to focus on every picture. But if you like to tap the screen for pictures, then you can easily choose for this option in the menu. For portrait pictures it is easier to just use the onscreen button.
The quality of movies is as good as the Mi2. This means that the quality is good and when you want to shoot a movie in the night, you can use the flashlight constantly. The main difference with the Mi2, is that you cannot shoot movies in slow-motion or fast-forward.
Other findings of the camera

Compared to the Sony Xperia S the zoom range is not very far. Just like the Mi2, the estimated range of the digital zoom is about 4-5x. The Xperia S achieves an estimated digital zoom range of 10x
The "night" option available on this phone, but it seems like it just doesn't work. This may make it difficult to make good pictures without flash light in low light. An example where this may be interesting is at sunset or at concerts
There are less options available compared to the Mi2. But the basis are still there.
The pictures have a minor flaw, I've seen at more phones lately. Pictures made on a white background have a visible pink stain. It is not always noticeable, but here is an example on a white door.

The camera starts up very fast, which makes it possible to instantly make a picture.
The phone can be set into many various picture resolutions.
You can make panoramic pictures very good and very smooth, almost every attempt is ok. You can also create panoramic shots in portrait and landscape mode
HDR pictures are supported, this will create a much more realistic look of the pictures, but it takes more time to save the picture.
You can record a movie at night with the built-in led.
Take pictures while you are shooting a video.
Movie examples
Picture examples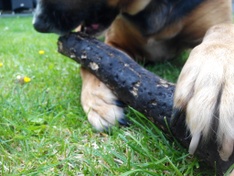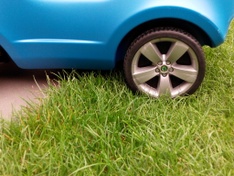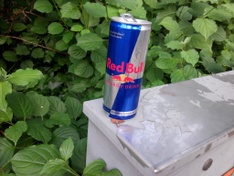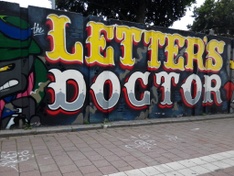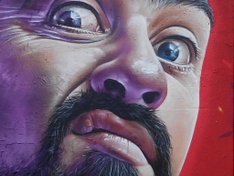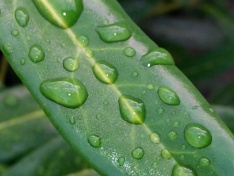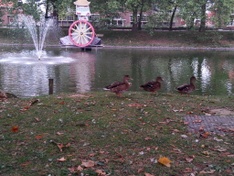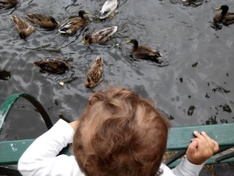 HDR picture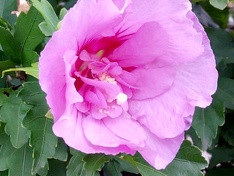 With and without HDR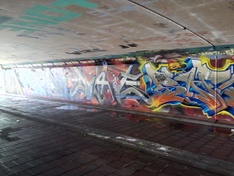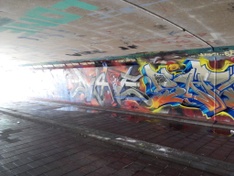 http://tweakers.net/ext/f/AGcHoOxEu904ojobuJfzWKlQ/full.jpg
Panorama pictures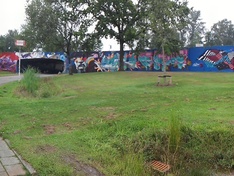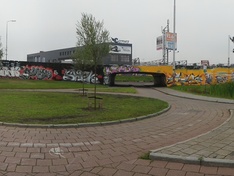 Pictures by night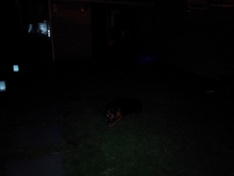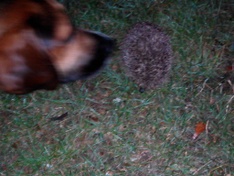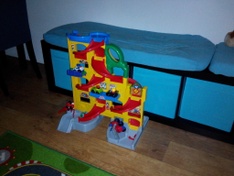 Nightshot comparison with Mi2 (Mi2 on the left)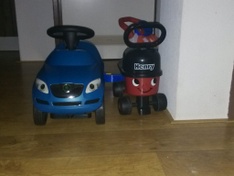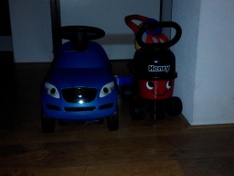 Battery
The phone is packed with a 2000mAh battery, this should be enough for 2 days when you don't do much exciting stuff with it and you only use 1 simcard. Currently I have everything turned on: Wi-Fi, Bluetooth, an Exchange calendar, 2 Gmail accounts, 2 Hotmail accounts, Facebook and Whatsapp. When I use 2 simcards I can reach the end of the day (around midnight) with ~30% left on my phone.
The day I did all my benchmarks (3-4 hours of benchmarks), navigated for 60 minutes and took a lot of pictures. The phone could hold it
9,5 hours and the screen was on for 4 hours
.
Display
The display of the Hongmi is from a good quality. The colours are looking very good, the brightness seems to be a bit higher and sometimes it looks too bright. The display can be viewed from a lot of angles. It is possible to change the display light on the Xiaomi in various ways. You can change it with the brightness bar and by changing the background light. This makes it easy to put the display on full brightness when you use your phone in direct sunlight.
Comparison with Xiaomi Mi2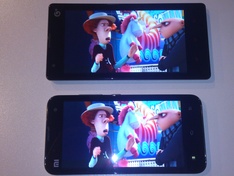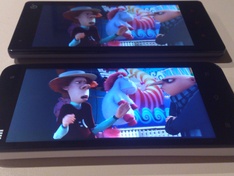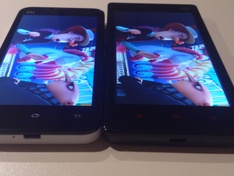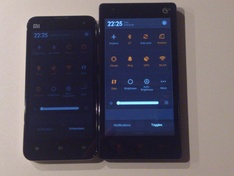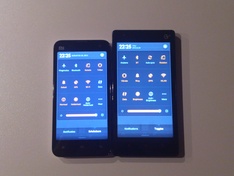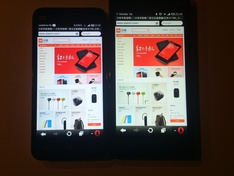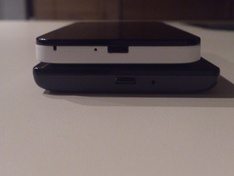 I think it is Mi2 vs. Hongmi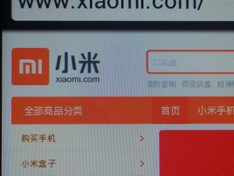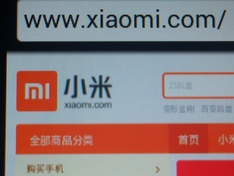 Benchmarks
Here are some benchmarks. I have performed every test 12 times. I have removed the highest and lowest scores and put it in an Excel sheet.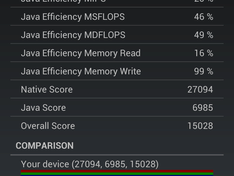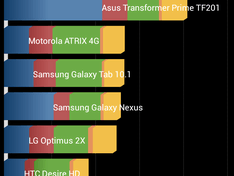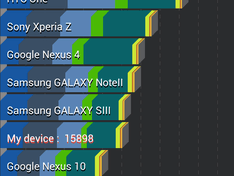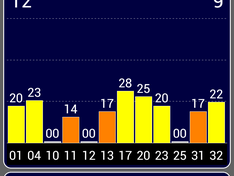 You can get calculations by clicking on the thumbnail.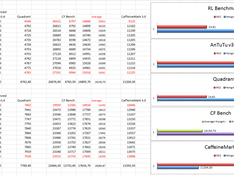 Additional information and links
You can use the website
https://i.xiaomi.com/
to find your phone when it is stolen/lost, sound an alarm to find your phone or change settings of the synchronization.
Links
Ibuygou
Specifications of the phone (translated)
European MiuiAndroid
Miui
Background information about Miui

No 3G = only very low speed for internet, enough for mail and Whatsapp
The phone several bugs, these should be fixed as soon as possible to keep the brand high positioned
Vibration of the phone is very weak
Pictures at dawn/night are very poor
GPS acts strange with Sports tracker, but is fine when you use a navigation system
This could be a downside for some people: Many Chinese pre-installed apps / No LTE / No NFC

Low priced phone with good specs
Great battery for this bigger phone
Quality of pictures at daylight is good
Great performances with this Mediatek Processor
Every week an upgrade and every month a stable upgrade OTA from MIUI
A lot of additional "hardcore" applications
Verdict
Xiaomi made a "low-end/mid-market" phone which looks good with better performances then I could imagine. The switch from a Qualcomm to a Mediatek chipset could be a good choice for these kind of phones. It seems that this switch also made the phone unstable with these first releases of Miui. I am sure that Xiaomi will do everything to make this work, but for now you have to deal with the bugs of the browser and the GPS. The quality of the camera is very good in this price range and it looks like it can compete with the Mi2. Shooting pictures in the dark is a no-go, I hope there will be a solution for this Samsung Camera. If the bugs are fixed then it will be a great dual-sim phone for China, but it is not suitable for most citizens in Europe due to the lack of 3G. If you don't mind the low internet speed and you just want to read your mail and instant messages, then you could consider this phone.