Today, in a group meeting, the next question has been raised:
What is your favourite brand?
The first brand that I had in mind was the brand I'm working for (I want the keep it classified).
The second brand was;
Xiaomi
!
I could speak up to the group and tell them that this was my favourite brand, but I could resist myself. First of all, this is a difficult name to pronounce: Xiaomi (Sja-oo-mi) and second, I didn't wanted to advertise too much about this Chinese brand, because I would probably tell my personal story about this brand.
At this moment I possess 3 Xiaomi products: Mi2, Hongmi (T and W) and Piston Earpieces (1st edition).
The brand has been founded in April 2010 and was focused on their own Chinese rom for Android with the name: Miui (Mie-you-ai / Mi-UI).
With some help of Foxconn they sold their first phone on 18 December 2011 with the name:
Mi-One
. In August 2012 Xiaomi introduced the Mi2 and several months later the first subscribers/buyers were able to receive their phone. In August 2013 Xiaomi introduced her first budget phone with a MediaTek CPU with the name HongMi / Red Rice. This phone was introduced without global 3G on the WCDMA network, instead it only had 3G on the TD-SCDMA network and this makes it only useful for some China networks. After several months, Xiaomi released the WCDMA version of this low budget phone.
After the first Hongmi, there was 1 more surprise, the Mi3. Xiaomi presented in September 2013 2 different Mi3 devices. The Tegra version was made for TD-SCDMA networks and the Qualcomm version is suitable for the rest of the world. The latest news about the Qualcomm version is that it will be send out to the customers at the very end of December 2013.
When did I came in touch with Xiaomi?
In November 2012 I was searching for a new phone to replace my Sony Xperia Sola. I had this phone nearly 6 months, due to the limited hardware/speed, I could have much joy of it. After a search of several weeks I noticed that I couldn't find a suitable mini-powerhouse-phone in Europe.
In my top-4 I had: Meizu MX2, Xiaomi Mi2, Oppo Finder (X907) and the Motorola Razr M (XT907). The specifications of the Meizu and Xiaomi were the best of all and eventually I went for the Xiaomi Mi2 due to positive reactions of the software.
I ordered the phone at a Dutch guy in China and mid January 2013 I received the phone (it took about 48 hours to be delivered from China to The Netherlands). During the first weeks of testing I started writing
my first review
(The NL and UK version have been seen almost 30.000 times within 11 months). The review was based on the original Xiaomi rom, if I used the Multi Language rom from this site, I probably rated the phone a slide bit higher.
I still own the Mi2 and I'm still loving this phone. The software is very stable, the weekly updates don't screw up things I notice, it only gives me more options and fixes. The only phone which will beat this phone is the Mi2s. This one has a slightly better CPU and camera.
In August I got the chance to review the
Xiaomi Hongmi
, this gave me the opportunity to see the real power of Miui. The Hongmi is positioned as a low-budget phone, but whatever I do, it doesn't seem to have a problem with everything I do with it. In daily life you won't notice that you're dealing with a MediaTek cpu, it will only be visible in benchmarks. The Hongmi is a phone I try to "sell" to many friends and relatives and if I check my figures, it seems to be a very popular phone (almost 22.000 views within 4 months for the NL and UK version).
In 3,5 years, Xiaomi has released a lot of products, it took some time to get them all together. In 2012 they came with a few version of their Mi-One, a TVbox with the name MiBox and later that year the Mi2. In 2013 they have released a lot of new products, I've tied to put them down here.
From earplugs to TV's and from phones to routers, Xiaomi seems to create everything that can contain a CPU.
Recap of Xiaomi goodies
2011
December:
Mi-One; Introduction movie
2012
Mi1s
Mi2; Introduction movie
Mibox Hezi (Mibox1); Introduction movie
Mi1S Youth
Mini Musical Bluetooth Speaker
Musical Speaker
2013
Mini Square box speaker
April:
Mi2s
Mi2a
July:
Xiaomi Piston Earpiece; Introduction movie
August / November:
Hongmi TD-SCDMA / WCDMA
MiTV; Website
Mibox 2; Shop advertisement
August / December:
Mi3 Tegra TD-SCDMA / Mi3 Qualcomm WCDMA; Introduction movie
December
10400 mAh batterypack; News article
Xiaomi Piston Earpiece 2; Introduction movie
Mi WiFi
2014 ??
Stocks?
Shops in Europe?
Our Miui collection:
Xiaomi Mi2 / Sony Xperia S / Xiaomi Hongmi WCDMA / Xiaomi Hongmi TD-SCDMA
Xiaomi is a Chinese brand, but although the price is very low, the products are copied very good. If you want to buy a Xiaomi product, check the reviews of the site/seller to make sure that you receive a qenuine product.
This was my love for Xiaomi en Miui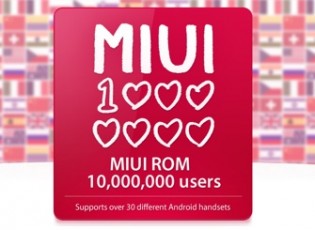 Last edited: