Safety first - Plug&Play with no compromise!
Do you trust those chinese adapters (missing approvals & EU conformity) for the mains supply?
I do not put them to the proof!

So cut the original chinese plug and renew it by an
approved (!) european SCHUKO plug (230V/50Hz/16A)
.
The setup procedure and the chinese signs
The setup of the IH* rice cooker 3l outside china can be tricky.
(*/ IH...Induction Heating)
Precondition: Wifi connection is established.
The setup procedure stops at: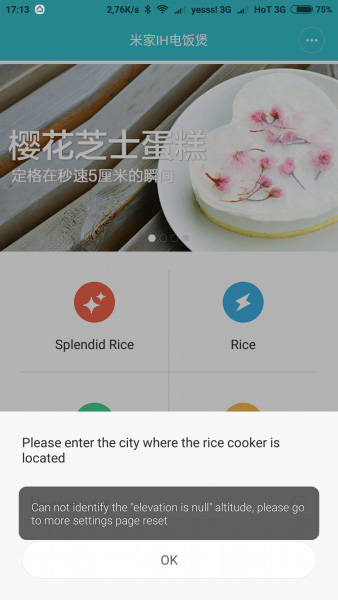 Please enter the city where the rice cooker is located.
Its not possible to entry into rice cooker app.
_____________________
Smart home app settings:
Locale: Mainland China
Language: English
I am located in europe. All my other mi smart home apps are working at a glance.
_____________________
Workaround no.1:
I just set my rice cooker to city shanghai (input in chinese / pinyin input)
Signs for Shanghai:
上海
Workaround no.2 (prefered!):
I could find a chinese city (Xi´an) which has an altitude similar to my city in europe (around 400 m altitude).
Find with google maps and then translate the city name (Xi´an) with the "G" google inline translation to pinyin.
See screenshot - setting/input a chinese city name in chinese letters/pinyin via "G" google inline translator:

Confirm input <ok>
setup is successful
Note:
If using more than one device (phone, tablet etc) with the smart home app and rice cooker plugin -> each device needs city input.
Hopefully the cooked rice has now best quality results resp. the cooked rice is much more flavorful.
English Control Panel of IH Rice Cooker (Preliminary edition)

All the buttons and functions of the control panel are only needed if you use the rice cooker without the smart home app. Its more comfortable for me to use the smart home app because you can start the rice preparation from anywhere(!) even from a sofa.
Finish Notification

Within menu Settings you can activate an mp3 file eg. with your own personal recorded voice of the finish event for the rice preparation.
This can be made really cool. As well other settings are possible.
Menu Overview
The smart home app views the status of the rice cooker - offline/standby/cooking.

Main menu

Settings menu I Finish Settings, Rice Cooker Settings

Menu Rice Manager
Select rice or scan rice (2D/bar code) or add manually (pic &text)
.



GENERAL SETTINGS

Menu Rice Cooker

Menu Cooking Parameters

Menu Set Taste Curve

Find out more about IH Rice Cooker by cooking a menu with your fingertips



I have using for years a simple rice cooker and switched now to the Xiaomi IH rice cooker. There is a difference between taste and flavor of the rice - a big difference!
I can recommend it to everyone likes cooking, likes eating fine dishes.
Last edited: