xiaomi.eu_multi_HMNote9Pro_HMNote9S_V13.0.2.0.SJWMIXM_v13-12.zip
Random reboots, in my opinion, this is due to updating the system via Google Play, when the device tries to update, it asks us to reboot, after restarting after 10 seconds, the update rolls back and the system restarts automatically, this action the system performs even if you do not update the system via Google.
this happens after some time by itself, apparently the system sees the update and tries to update it itself
This bug has been fixed for other devices for a long time, but not for Rеdmi Note 9S
maybe it's worth releasing a minor update? since the firmware is stable, it is not stable at all in my opinion. has random reboots due to the fact that it cannot update the security patch.
security update on this firmware from September 1, 2021, the system cannot update the patch
in my opinion, it is necessary to re-release stable firmware with the elimination of the "security update" problem with updates of stock applications such as desktop, weather, contacts and calls, sms, joyose, miuidaemon, security, and others.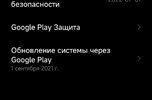 p.s. the firmware without root, and this is an ancient bug that you fixed in other phones such as poco x3 NFC
Last edited: