Really thanks for the ROM it is working great on Redmi 9t (Lime) and really love it, but I am facing some bugs
First, the permission manager shows some Chinese text as below screen shot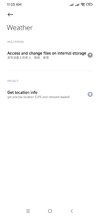 Second, on full screen apps, the navigation bar still visible, such as Facebook videos
Third, in the battery screen time, the total time keep decreasing when it is more than 24 hours, so it is kinda showing for the last 24 hours not since last unplugged.
Fourth, ringtone sound keep using notification sound for calls instead of the ringtone, the only possible way is to change the ringtone.
Fifth, fingerprint sometimes not working properly when the phone is left for long periods not used,
Sixeth, Yesterday I had a battery drained caused by Phone Idle and Android System, 8% over 5 hours, sleeping scenario was enabled at the battery
Seventh, Charge Animation "glow" shows big electric sign over the whole screen,
Eigth, Google Play System update only updating manually, using Apk from apkmirror
Last thing a question, is it favorable to set clear cache when locked after a certain time or keep it off?
Last edited by a moderator: